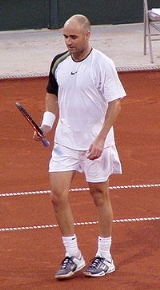 Andre Agassi
Andre Kirk Agassi
(ˈɑːndreɪ ˈæɡəsi) (born April 29, 1970) is a retired American professional tennis player and former
world no. 1
. Generally considered by critics and fellow players to be one of the greatest tennis players of all time, Agassi has been called the best service returner in the history of the game. Described by the
BBC
BBC
The British Broadcasting Corporation is a British public service broadcaster. Its headquarters is at Broadcasting House in the City of Westminster, London. It is the largest broadcaster in the world, with about 23,000 staff...
upon his retirement as "perhaps the biggest worldwide star in the sport's history", Agassi's performances, along with his unorthodox apparel and attitude, have seen him cited as one of the most charismatic players in the history of the game, and credited for helping revive the popularity of tennis during the 1990s.
Agassi is an eight-time
Grand Slam
Grand Slam (tennis)
The four Major tennis tournaments, also called the Slams, are the most important tennis events of the year in terms of world tour ranking points, tradition, prize-money awarded, strength and size of player field, and public attention. They are the Australian Open, the French Open, Wimbledon, and...
singles champion who competed in fifteen Grand Slam finals, and an Olympic gold medalist.
Being number two sucks.

Everybody here is taking the day out of their lives to come watch me, and I thank you for that.

He was too good. I would suggest to his next opponent that he doesn't look to me for advice.

I feel old when I see mousse in my opponent's hair.

I got a hundred bucks says my baby beats Pete's baby. I just think genetics are in my favour.

I love you too man!

When a fan would say "We love you Andre!"
I question myself every day. That's what I still find motivating about this. I don't have the answers, I don't pretend that I do just because I won the match. Just keep fighting and maybe something good happens.

I think I've always had the shots. But in the past, I've suffered too many mental lapses. Now, I'm starting to get away from that and my mental discipline and commitment to the game are much better. I think I'm really taking a good look at the big picture. That's the difference between being around for the final or watching the final from my sofa at home.

I'm going to go down swinging. ... I'm sure as heck not going to go home and say I had a bad tournament.

I've been motivated by overcoming challenge and overcoming the hurdles and obstacles that face me. There still is plenty out there to get motivated by.

During the 2005 U.S. Open