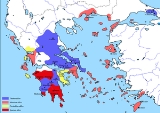 Ancient Corinth
Corinth
, or
Korinth
was a
city-state
City-state
A city-state is an independent or autonomous entity whose territory consists of a city which is not administered as a part of another local government.-Historical city-states:...
(
polis
Polis
Polis , plural poleis , literally means city in Greek. It could also mean citizenship and body of citizens. In modern historiography "polis" is normally used to indicate the ancient Greek city-states, like Classical Athens and its contemporaries, so polis is often translated as "city-state."The...
) on the
Isthmus of Corinth
Isthmus of Corinth
The Isthmus of Corinth is the narrow land bridge which connects the Peloponnese peninsula with the rest of the mainland of Greece, near the city of Corinth. The word "isthmus" comes from the Ancient Greek word for "neck" and refers to the narrowness of the land. The Isthmus was known in the ancient...
, the narrow stretch of land that joins the Peloponnesus to the mainland of Greece, roughly halfway between Athens and
Sparta
Sparta
Sparta or Lacedaemon, was a prominent city-state in ancient Greece, situated on the banks of the River Eurotas in Laconia, in south-eastern Peloponnese. It emerged as a political entity around the 10th century BC, when the invading Dorians subjugated the local, non-Dorian population. From c...
. The modern town of
Corinth
Corinth
Corinth is a city and former municipality in Corinthia, Peloponnese, Greece. Since the 2011 local government reform it is part of the municipality Corinth, of which it is the seat and a municipal unit...
is located approximately 5 kilometres (3.1 mi) northeast of the ancient ruins. Since 1896, systematic archaeological investigations of the
Corinth Excavations
Corinth Excavations
The Corinth Excavations by the American School of Classical Studies at Athens began in 1896 and have continued with little interruption until today. Restricted by the modern village of Ancient Corinth, which directly overlies the ancient city, the main focus of School investigations has been on the...
by the
American School of Classical Studies at Athens
American School of Classical Studies at Athens
The American School of Classical Studies at Athens is one of 17 foreign archaeological institutes in Athens, Greece.-General information:...
have revealed a large parts of the ancient city, and recent excavations conducted by the Greek Ministry of Culture have brought important new facets of antiquity to light.
Neolithic
Neolithic
The Neolithic Age, Era, or Period, or New Stone Age, was a period in the development of human technology, beginning about 9500 BC in some parts of the Middle East, and later in other parts of the world. It is traditionally considered as the last part of the Stone Age...
artifacts show that the site of Corinth had been occupied as early as the fifth millennium BC.