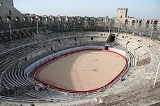 Amphitheatre
An
amphitheatre
is an open-air venue used for entertainment and performances.
There are two similar, but distinct, types of structure for which the word "amphitheatre" is used: Ancient Roman amphitheatres were large central performance spaces surrounded by ascending seating, and were commonly used for spectator sports; these compare more closely to modern open-air
stadiums
Stadium
A modern stadium is a place or venue for outdoor sports, concerts, or other events and consists of a field or stage either partly or completely surrounded by a structure designed to allow spectators to stand or sit and view the event.)Pausanias noted that for about half a century the only event...
. They were given this name because their shape resembled that of two theatres joined together.