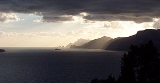 Amalfi Coast
In popular culture
The Amalfi Coast is a popular destination among tourists. It was featured in "Positano," a short story written by American author
John Steinbeck
John Steinbeck
John Ernst Steinbeck, Jr. was an American writer. He is widely known for the Pulitzer Prize-winning novel The Grapes of Wrath and East of Eden and the novella Of Mice and Men...
in 1953. It was also the setting in "Finding Positano, A Love Story" written by author William James in 2010.
The Amalfi Coast also serves as a setting for fictional tracks in the
Forza Motorsport 3
Forza Motorsport 3
Forza Motorsport 3 is a racing video game developed for Xbox 360 by Turn 10 Studios. It was released in October . It is the sequel to Forza Motorsport 2 and the third installment in the Forza Motorsport series...
and
Gran Turismo 4
Gran Turismo 4
is a racing simulator for the Sony PlayStation 2 which was developed by Polyphony Digital. It was released on December 28, 2004 in Japan and Hong Kong , February 22, 2005 in North America , and March 9, 2005 in Europe , and has since been re-issued under Sony's 'Greatest Hits' line...
.
The city of Positano featured prominently in scenes of the film
Under the Tuscan Sun
.
Airport
The nearest airport is the Salerno-Pontecagnano Airport. However the most used airport to reach the Amalfi coast from abroad is Naples' airport (Napoli-Capodichino).