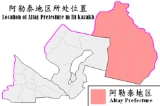 Altay Prefecture
Altay Prefecture
is located in northern
Xinjiang
Xinjiang
Xinjiang is an autonomous region of the People's Republic of China. It is the largest Chinese administrative division and spans over 1.6 million km2...
, China. It has an
area
Area
Area is a quantity that expresses the extent of a two-dimensional surface or shape in the plane. Area can be understood as the amount of material with a given thickness that would be necessary to fashion a model of the shape, or the amount of paint necessary to cover the surface with a single coat...
of 118,015 km² and a population of 561,667 (2000). It is a part of
Ili Kazakh Autonomous Prefecture
Ili Kazakh Autonomous Prefecture
Ili Kazakh Autonomous Prefecture , in northernmost Xinjiang, is the only Kazakh autonomous prefecture of the People's Republic of China.-Geography and coordinates:The following figures excludes both Tacheng Prefecture and Altay Prefecture....
. At the 2000 census, Altay was the only major subdivision of Ili Kazakh Autonomous Prefecture with an ethnic
Kazakh
Kazakhs
The Kazakhs are a Turkic people of the northern parts of Central Asia ....
majority (about 51%). In 2007 it had a GDP of
RMB
Renminbi
The Renminbi is the official currency of the People's Republic of China . Renminbi is legal tender in mainland China, but not in Hong Kong or Macau. It is issued by the People's Bank of China, the monetary authority of the PRC...
9.9 billion with a 12% growth rate. It is also shares international border with the neighboring
Altai Republic
Altai Republic
Altai Republic is a federal subject of Russia . Its capital is the town of Gorno-Altaysk. The area of the republic is . Population: -Geography:...
,
Russia
Russia
Russia or , officially known as both Russia and the Russian Federation , is a country in northern Eurasia. It is a federal semi-presidential republic, comprising 83 federal subjects...
.
Its population is 603,280 at the 2010 cenus whom
216,890 in built up area
, even though Altay urban district is spread on 10,852 km².
Subdivisions
The prefecture is divided into 1
county-level city
County-level city
A county-level city is a county-level administrative division of mainland China. County-level cities are usually governed by prefecture-level divisions, but a few are governed directly by province-level divisions....
and 6 counties.
#
Name
Hanzi
Hanyu Pinyin
Uyghur

Uyghur language

Uyghur , formerly known as Eastern Turk, is a Turkic language with 8 to 11 million speakers, spoken primarily by the Uyghur people in the Xinjiang Uyghur Autonomous Region of Western China. Significant communities of Uyghur-speakers are located in Kazakhstan and Uzbekistan, and various other...




Population (2003 est.)
Area (km²)
Density (/km²)
1
Altay City

Altay, Xinjiang

Altay or Aletai is a county-level city in Ili Kazakh Autonomous Prefecture, of Xinjiang Uyghur Autonomous Region, in the People's Republic of China. It is the administrative centre of Altay Prefecture, and has 142,000 inhabitants.-Climate:...



阿勒泰市
Ālètài Shì
ئالتاي شەھىرى
Altay Shehiri
230,000
10,852
21
2
Burqin County

Burqin County

Burqin County , is a county in the Xinjiang Uyghur Autonomous Region of the People's Republic of China and is under the administration of the Altay Prefecture. It has an area of 10,362 km² with a population of 70,000. The postcode is 836600.- Transport :...



布尔津县
Bù'ěrjīn Xiàn
بۇرچىن ناھىيىسى
Burchin Nahiyisi
70,000
10,369
7
3
Fuyun County

Fuyun County

Fuyun County is a county situated in the Xinjiang Uyghur Autonomous Region and is under the administration of the Altay Prefecture. It has an area of 32,237 km² with a population of 80,000. The seat of Fuyun County is in Ku Ertix Township . The Koktokay National Geopark is in Koktokay Township ....



富蕴县
Fùyùn Xiàn
كوكتوقاي ناھىيىسى
Koktokay Nahiyisi
90,000
32,327
3
4
Fuhai County

Fuhai County

Fuhai County is a county in the Xinjiang Uyghur Autonomous Region and is under the administration of the Altay Prefecture. It has an area of 33, 273 km² with a population of 70,000...



福海县
Fúhǎi Xiàn
بۇرۇلتوقاي ناھىيىسى
Burultoqay Nahiyisi
70,000
33,319
2
5
Habahe County

Habahe County

Habahe County is a county situated in the Xinjiang Uyghur Autonomous Region and is under the administration of the Altay Prefecture. It has an area of 8,179 km² with a population of 80,000. The Postcode is 836700....



哈巴河县
Hābāhé Xiàn
قابا ناھىيىسى
Qaba Nahiyisi
80,000
8,186
10
6
Qinggil County

Qinggil County

Qinggil County is a county situated in the Xinjiang Uyghur Autonomous Region of China and is under the administration of the Altay Prefecture. It has an area of 15,722 km² with a population of 60,000. The Postcode is 836200...



青河县
Qīnghé Xiàn
چىڭگىل ناھىيىسى
Chinggil Nahiyisi
60,000
15,790
4
7
Jeminay County

Jeminay County

Jeminay County is a county situated in the Xinjiang Uyghur Autonomous Region and is under the administration of the Altay Prefecture.A road border crossing into Kazakhstan is located in Jeminay town...



吉木乃县
Jímùnǎi Xiàn
جېمىنەي ناھىيىسى
Jéminey Nahiyisi
40,000
7,145
6