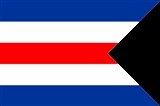 Allied Occupation Zones in Germany
The
Allied powers
Allies of World War II
The Allies of World War II were the countries that opposed the Axis powers during the Second World War . Former Axis states contributing to the Allied victory are not considered Allied states...
who defeated
Nazi Germany
Nazi Germany
Nazi Germany , also known as the Third Reich , but officially called German Reich from 1933 to 1943 and Greater German Reich from 26 June 1943 onward, is the name commonly used to refer to the state of Germany from 1933 to 1945, when it was a totalitarian dictatorship ruled by...
in
World War II
World War II
World War II, or the Second World War , was a global conflict lasting from 1939 to 1945, involving most of the world's nations—including all of the great powers—eventually forming two opposing military alliances: the Allies and the Axis...
divided the country west of the
Oder-Neisse line
Oder-Neisse line
The Oder–Neisse line is the border between Germany and Poland which was drawn in the aftermath of World War II. The line is formed primarily by the Oder and Lusatian Neisse rivers, and meets the Baltic Sea west of the seaport cities of Szczecin and Świnoujście...
into four
occupation zones
for administrative purposes during 1945–49. In the closing weeks of fighting in Europe, US forces had pushed beyond the previously agreed boundaries for the future zones of occupation, in some places by as much as 200 miles. The
line of contact
Line of contact
The Line of Contact marked the farthest advance of American, British and Soviet Armies into Germany at the end of World War II. This contact began with the first meeting between Soviet and American forces at Torgau, near the Elbe river on Elbe Day, April 25, 1945...
between
Soviet
Soviet Union
The Soviet Union , officially the Union of Soviet Socialist Republics , was a constitutionally socialist state that existed in Eurasia between 1922 and 1991....
and US forces at the end of hostilities was temporary.