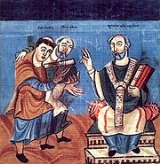 Alcuin
Alcuin of York
or
Ealhwine
, nicknamed
Albinus
or
Flaccus
(730s or 740s – 19 May 804) was an English scholar,
ecclesiastic
Ecclesiology
Today, ecclesiology usually refers to the theological study of the Christian church. However when the word was coined in the late 1830s, it was defined as the science of the building and decoration of churches and it is still, though rarely, used in this sense.In its theological sense, ecclesiology...
, poet and teacher from
York
York
York is a walled city, situated at the confluence of the Rivers Ouse and Foss in North Yorkshire, England. The city has a rich heritage and has provided the backdrop to major political events throughout much of its two millennia of existence...
,
Northumbria
Northumbria
Northumbria was a medieval kingdom of the Angles, in what is now Northern England and South-East Scotland, becoming subsequently an earldom in a united Anglo-Saxon kingdom of England. The name reflects the approximate southern limit to the kingdom's territory, the Humber Estuary.Northumbria was...
. He was born around 735 and became the student of Archbishop Ecgbert at York. At the invitation of
Charlemagne
Charlemagne
Charlemagne was King of the Franks from 768 and Emperor of the Romans from 800 to his death in 814. He expanded the Frankish kingdom into an empire that incorporated much of Western and Central Europe. During his reign, he conquered Italy and was crowned by Pope Leo III on 25 December 800...
, he became a leading scholar and teacher at the Carolingian court, where he remained a figure in the 780s and 790s. He wrote many theological and dogmatic treatises, as well as a few grammatical works and a number of poems. He was made Abbot of Saint Martin's at
Tours
Tours
Tours is a city in central France, the capital of the Indre-et-Loire department.It is located on the lower reaches of the river Loire, between Orléans and the Atlantic coast. Touraine, the region around Tours, is known for its wines, the alleged perfection of its local spoken French, and for the...
in 796, where he remained until his death.
What makes bitter things sweet? Hunger.

in R Lacey and D Danziger, The Year 1000, Little, Brown and Co,GB, 1999, p57