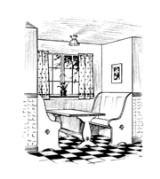 Alcove
Alcove
(icon or ˈ; through the Spanish,
alcoba
, from the Arabic,
al-
, the, and
qubbah
(القبة), a vault) is an architectural term for a recess in a room, usually screened off by
pillar
Column
A column or pillar in architecture and structural engineering is a vertical structural element that transmits, through compression, the weight of the structure above to other structural elements below. For the purpose of wind or earthquake engineering, columns may be designed to resist lateral forces...
s,
balustrade
Baluster
A baluster is a moulded shaft, square or of lathe-turned form, one of various forms of spindle in woodwork, made of stone or wood and sometimes of metal, standing on a unifying footing, and supporting the coping of a parapet or the handrail of a staircase. Multiplied in this way, they form a...
s or
drapery
Drapery
Drapery is a general word referring to cloths or textiles . It may refer to cloth used for decorative purposes – such as around windows – or to the trade of retailing cloth, originally mostly for clothing, formerly conducted by drapers.In art history, drapery refers to any cloth or...
.
In
geography
Geography
Geography is the science that studies the lands, features, inhabitants, and phenomena of Earth. A literal translation would be "to describe or write about the Earth". The first person to use the word "geography" was Eratosthenes...
and
geology
Geology
Geology is the science comprising the study of solid Earth, the rocks of which it is composed, and the processes by which it evolves. Geology gives insight into the history of the Earth, as it provides the primary evidence for plate tectonics, the evolutionary history of life, and past climates...
, the term
Alcove
is used for a wind-eroded depression in the side of a cliff of a homogenous rock type, famous from
sandstone
Sandstone
Sandstone is a sedimentary rock composed mainly of sand-sized minerals or rock grains.Most sandstone is composed of quartz and/or feldspar because these are the most common minerals in the Earth's crust. Like sand, sandstone may be any colour, but the most common colours are tan, brown, yellow,...
s of the
Colorado Plateau
Colorado Plateau
The Colorado Plateau, also called the Colorado Plateau Province, is a physiographic region of the Intermontane Plateaus, roughly centered on the Four Corners region of the southwestern United States. The province covers an area of 337,000 km2 within western Colorado, northwestern New Mexico,...
like the
Navajo Sandstone
Navajo Sandstone
Navajo Sandstone is a geologic formation in the Glen Canyon Group that is spread across the U.S. states of northern Arizona, northwest Colorado, and Utah; as part of the Colorado Plateau province of the United States...
.