 Albertine Necker de Saussure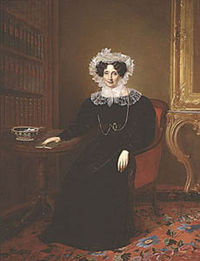 Albertine Adrienne Necker de Saussure
(1766,
Geneva
Geneva
Geneva In the national languages of Switzerland the city is known as Genf , Ginevra and Genevra is the second-most-populous city in Switzerland and is the most populous city of Romandie, the French-speaking part of Switzerland...
- 1841 , Vallée du Salève, near Geneva) was a
Swiss
Old Swiss Confederacy
The Old Swiss Confederacy was the precursor of modern-day Switzerland....
writer and educationalist and an early advocate of education for women.
Life
She was the daughter of the distinguished Swiss scientist, Horace Bénédict de Saussure, who ensured she received the best education available at that time. She married a noted botanist who was the nephew and namesake of Louis XVI's finance minister,
Jacques Necker
Jacques Necker
Jacques Necker was a French statesman of Swiss birth and finance minister of Louis XVI, a post he held in the lead-up to the French Revolution in 1789.-Early life:...
. Her brother,
Nicolas-Théodore de Saussure
Nicolas-Théodore de Saussure
Nicolas-Théodore de Saussure was a Swiss chemist and student of plant physiology who made seminal advances in phytochemistry....
, became a noted chemist and researcher into
plant physiology
Plant physiology
Plant physiology is a subdiscipline of botany concerned with the functioning, or physiology, of plants. Closely related fields include plant morphology , plant ecology , phytochemistry , cell biology, and molecular biology.Fundamental processes such as photosynthesis, respiration, plant nutrition,...
.
Albertine Necker de Saussure was a
Calvinist
Calvinism
Calvinism is a Protestant theological system and an approach to the Christian life...
and this laid stress on the equality of all souls, both men and women, before God. She suffered from deafness for much of her life.
Works
Her principal work,
L'Education Progressive
or
Etude du Cours de la Vie
(1828), was a long and influential study on educational theory and the education of women. The work is divided into two parts, originally in three volumes which were published successively. The first two volumes treat education in general. The author takes the child from birth and follows it up to fourteen years old. The third volume is especially devoted to the education of women.
She also wrote a biography of her friend and cousin, by marriage, Germaine de Staël for the first collected edition of de Staël's works in 1821.