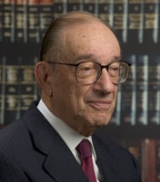 Alan Greenspan
Alan Greenspan is an American economist who served as
Chairman of the Federal Reserve
Chairman of the Federal Reserve
The Chairman of the Board of Governors of the Federal Reserve System is the head of the central banking system of the United States. Known colloquially as "Chairman of the Fed," or in market circles "Fed Chairman" or "Fed Chief"...
of the United States from 1987 to 2006. He currently works as a private advisor and provides consulting for firms through his company, Greenspan Associates LLC. First appointed Federal Reserve chairman by President
Ronald Reagan
Ronald Reagan
Ronald Wilson Reagan was the 40th President of the United States , the 33rd Governor of California and, prior to that, a radio, film and television actor....
in August 1987, he was reappointed at successive four-year intervals until retiring on January 31, 2006 after the second-longest tenure in the position.
Greenspan came to the Federal Reserve Board from a successful consulting career, holding
laissez-faire
Laissez-faire
In economics, laissez-faire describes an environment in which transactions between private parties are free from state intervention, including restrictive regulations, taxes, tariffs and enforced monopolies....
economic views influenced by
Ayn Rand
Ayn Rand
Ayn Rand was a Russian-American novelist, philosopher, playwright, and screenwriter. She is known for her two best-selling novels The Fountainhead and Atlas Shrugged and for developing a philosophical system she called Objectivism....
.
Capitalism is based on self-interest and self-esteem; it holds integrity and trustworthiness as cardinal virtues and makes them pay off in the marketplace, thus demanding that men survive by means of virtue, not vices. It is this superlatively moral system that the welfare statists propose to improve upon by means of preventative law, snooping bureaucrats, and the chronic goad of fear.

The Assault on Integrity, 1963
I guess I should warn you, if I turn out to be particularly clear, you've probably misunderstood what I said.

1988 speech, as quoted in The New York Times, October 28, 2005
Since becoming a central banker, I have learned to mumble with great incoherence. If I seem unduly clear to you, you must have misunderstood what I said.

Speaking to a Senate Committee in 1987, as quoted in the Guardian Weekly, November 4, 2005
The reason there is very little support for the gold standard is the consequences of those types of market adjustments are not considered to be appropriate in the 20th and 21st century. I am one of the rare people who have still some nostalgic view about the old gold standard, as you know, but I must tell you, I am in a very small minority among my colleagues on that issue.

Speaking to a Hearing before the U.S. House of Representatives' Committee on Financial Services in 7/22/1998