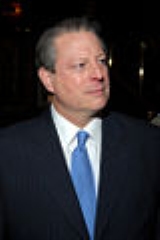 Al Gore
Albert Arnold
"
Al
"
Gore, Jr.
(born March 31, 1948) served as the
45th
Vice President of the United States
Vice President of the United States
The Vice President of the United States is the holder of a public office created by the United States Constitution. The Vice President, together with the President of the United States, is indirectly elected by the people, through the Electoral College, to a four-year term...
(1993–2001), under
President
President of the United States
The President of the United States of America is the head of state and head of government of the United States. The president leads the executive branch of the federal government and is the commander-in-chief of the United States Armed Forces....
Bill Clinton
Bill Clinton
William Jefferson "Bill" Clinton is an American politician who served as the 42nd President of the United States from 1993 to 2001. Inaugurated at age 46, he was the third-youngest president. He took office at the end of the Cold War, and was the first president of the baby boomer generation...
. He was the Democratic Party's
nominee
for President in the
2000 U.S. presidential election
United States presidential election, 2000
The United States presidential election of 2000 was a contest between Republican candidate George W. Bush, then-governor of Texas and son of former president George H. W. Bush , and Democratic candidate Al Gore, then-Vice President....
.
Gore is currently an author and
environmental
Environmentalism
Environmentalism is a broad philosophy, ideology and social movement regarding concerns for environmental conservation and improvement of the health of the environment, particularly as the measure for this health seeks to incorporate the concerns of non-human elements...
activist.
The day I made that statement, I was tired because I had been up all night inventing the Camcorder.

Joking about reports that he had claimed to have invented the internet, as quoted in The Boston Globe (9 April 1999)
I have ridden the mighty moon-worm!

Guest appearance on Futurama episode "Crimes of the Hot" (10 November 2002)
American troops and American taxpayers are shouldering a huge burden with no end in sight because Mr. Bush took us to war on false premises and with no plan to win the peace.

"How to Debate George Bush" in The New York Times (29 September 2004)