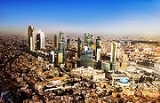 Al Abdali
Al Abdali
is one of the five districts of the
Municipality of Greater Amman
Municipality of Greater Amman
The Municipality of Greater Amman is a municipality located in the Amman Governorate of Hashemite Kingdom of Jordan.-History:Amman's first municipal council was established in 1909. In 1914, the city of Amman was made the head of the Amman district. The city's population at the time was only...
. It covers an area of 15 square kilometres (6 sq mi) in the heart of
Amman
Amman
Amman is the capital of Jordan. It is the country's political, cultural and commercial centre and one of the oldest continuously inhabited cities in the world. The Greater Amman area has a population of 2,842,629 as of 2010. The population of Amman is expected to jump from 2.8 million to almost...
. A population of 120,000 includes the neighborhoods of Shmeisani, Sports City district, Jabal al Hussein, and Jabal Luweibdeh. The old historic areas of Jabal Al Hussein and Luweibdeh also have some of the city's most important government and military locations. Important places in other parts of Al Abdali include Royal Cultural Center, Al Hussein Sports City, the Parliament building, Palace of Justice, Association of Trade Unions,
King Abdullah I Mosque
King Abdullah I Mosque
The King Abdullah I Mosque, built between 1982 and 1989 in Amman, Jordan.It is capped by a magnificent blue mosaic dome beneath which 3,000 Muslims may offer prayer.-External links:* Jordan-Wiki:...
, and numerous embassies. The district is named after King Abdullah I, who founded it during the 1950s.
The Central Business District of Amman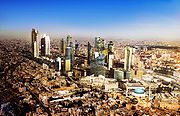 Project Overview
To be developed on 384,000 sqm of land,the project will consist of a total built-up area (BUA) of over 1.7 million sqm consisting of residential apartments, office space, Hotels, services apartments and commercial and retail outlets as well as entertainment. Abdali will be the premium central business and residential district of Amman.
Abdali is being developed as a smart city center converging media and telecom infrastructure to enable the delivery of state-of-the-art technologies to each and every home, office and outlet, while offering district energy solutions and central gas systems to guarantee a safe and friendly environment in addition to the large savings in energy cost . The city center will be fully equipped with technologically advanced building management systems, fire protection systems and security management and provision. It will be one of the world's most advanced central business districts and it will be the most advanced in the
Levant
Levant
The Levant or ) is the geographic region and culture zone of the "eastern Mediterranean littoral between Anatolia and Egypt" . The Levant includes most of modern Lebanon, Syria, Jordan, Israel, the Palestinian territories, and sometimes parts of Turkey and Iraq, and corresponds roughly to the...
.
The Abdali Development ensured the creation of superior road networks and traffic solutions around and within the development, to enable the smooth flow of around 90,000 persons, residing,working and visiting daily once the project is fully functional.
Phase I
Envisioned as the business and commercial center of Amman, the Phase I of Abdali is a highly efficient and planned pedestrian-oriented mixed-use community containing the following BUA:
Residential 287,000 sqm (28%)
Offices 363,000 sqm (35%)
Hotels 111,000 sqm (11%)
Retail 273,000 sqm (26%)
TOTAL BUILT-UP AREA OF PHASE I: 1,034,000 sqm
Phase II
Envisioned with a central green park across 30,000 sqm of land in its midst serving as a focal theme for both residential and commercial developments, Phase II of Abdali offers impressive designs based on a well studied master plan containing the following BUA:
Residential 457,000 sqm (63%)
Offices 156,000 sqm (22%)
Hotels 62,000 sqm (9%)
Retail 47,000 sqm (6%)
TOTAL BUILT-UP AREA OF PHASE II: 722,000 sqm
Overall Project BUA
Residential 744,000 sqm (42%)
Offices 519,000 sqm (30%)
Hotels 173,000 sqm (10%)
Retail 320,000 sqm (18%)
TOTAL BUILT-UP AREA OF THE ABDALI PROJECT: 1,756,000 sqm