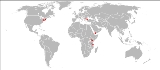 Al-Qaeda
Al-Qaeda
is a global broad-based militant Islamist terrorist organization founded by
Osama bin Laden
Osama bin Laden
Osama bin Mohammed bin Awad bin Laden was the founder of the militant Islamist organization Al-Qaeda, the jihadist organization responsible for the September 11 attacks on the United States and numerous other mass-casualty attacks against civilian and military targets...
sometime between August 1988 and late 1989. It operates as a network comprising both a multinational, stateless army and a radical Sunni Muslim movement calling for global
Jihad
Jihad
Jihad , an Islamic term, is a religious duty of Muslims. In Arabic, the word jihād translates as a noun meaning "struggle". Jihad appears 41 times in the Quran and frequently in the idiomatic expression "striving in the way of God ". A person engaged in jihad is called a mujahid; the plural is...
. It has been designated a "terrorist organization" by the United States, the
United Nations Security Council
United Nations Security Council
The United Nations Security Council is one of the principal organs of the United Nations and is charged with the maintenance of international peace and security. Its powers, outlined in the United Nations Charter, include the establishment of peacekeeping operations, the establishment of...
, the
European Union
European Union
The European Union is an economic and political union of 27 independent member states which are located primarily in Europe. The EU traces its origins from the European Coal and Steel Community and the European Economic Community , formed by six countries in 1958...
,
NATO
, and various other countries (see below).
Al-Qaeda has attacked civilian and military targets in various countries, such as the September 11 attacks, 1998 US embassy bombings and 2002 Bali bombings.