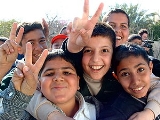 Al-A'amiriya
Al-A'amiriya
is a western neighborhood of
Baghdad
Baghdad
Baghdad is the capital of Iraq, as well as the coterminous Baghdad Governorate. The population of Baghdad in 2011 is approximately 7,216,040...
,
Iraq
Iraq
Iraq ; officially the Republic of Iraq is a country in Western Asia spanning most of the northwestern end of the Zagros mountain range, the eastern part of the Syrian Desert and the northern part of the Arabian Desert....
. It is an upper-class Sunni neighborhood in the west of the city on the way to
Anbar
Anbar
Anbar was a town in Iraq, at lat. 33 deg. 22' N., long. 43 deg. 49' E, on the east bank of the Euphrates, just south of the Nahr 'Isa, or Sakhlawieh canal, the northernmost of the canals connecting that river with the Tigris.-History:...
Province.
History
In March 2007, American troops cleared the neighborhood during one of the first major operations of the "surge" strategy. In May 2007, Sunni militants affiliated with Al Qaeda in
Mesopotamia
Mesopotamia
Mesopotamia is a toponym for the area of the Tigris–Euphrates river system, largely corresponding to modern-day Iraq, northeastern Syria, southeastern Turkey and southwestern Iran.Widely considered to be the cradle of civilization, Bronze Age Mesopotamia included Sumer and the...
clashed for several days with gunmen from rival insurgent groups, including the 1920s Revolution Brigades. It was the first sign in Baghdad of "the Sunni Awakening" —what the American military has described as a grass-roots Sunni movement against Sunni extremists. Since then, the neighborhood has been surrounded by concrete walls and military checkpoints, creating enough security for the market to revive, but also frustrating residents whose movements have been restricted. Some residents praise the new volunteers, calling them "the genuine locals," not a militia. Others describe the amateur force as unknown, untested and untrustworthy. The consensus complaint is that the walls and checkpoints around Amiriya force residents to live a life under siege, unable to trust either the Iraqi security forces, the so-called "freedom fighters" or the Americans.
External links