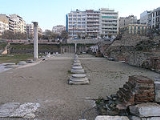 Agora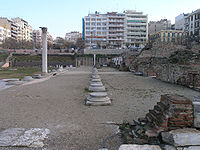 The
Agora
was an open "place of assembly" in ancient
Greek
Ancient Greece
Ancient Greece is a civilization belonging to a period of Greek history that lasted from the Archaic period of the 8th to 6th centuries BC to the end of antiquity. Immediately following this period was the beginning of the Early Middle Ages and the Byzantine era. Included in Ancient Greece is the...
city-states. Early in Greek history (10th century–8th century BC), free-born male land-owners who were citizens would gather in the Agora for military duty or to hear statements of the ruling king or council. Later, the Agora also served as a marketplace where merchants kept stalls or shops to sell their goods amid
colonnade
Colonnade
In classical architecture, a colonnade denotes a long sequence of columns joined by their entablature, often free-standing, or part of a building....
s. From this twin function of the Agora as a political and commercial space came the two Greek verbs αγοράζω,
agorázō
, "I shop", and αγορεύω,
agoreúō
, "I speak in public". The word
agoraphobia
Agoraphobia
Agoraphobia is an anxiety disorder defined as a morbid fear of having a panic attack or panic-like symptoms in a situation from which it is perceived to be difficult to escape. These situations can include, but are not limited to, wide-open spaces, crowds, or uncontrolled social conditions...
, the fear of critical public situations, derives from Agora in its meaning as a gathering place.
The
Forum
Forum (Roman)
A forum was a public square in a Roman municipium, or any civitas, reserved primarily for the vending of goods; i.e., a marketplace, along with the buildings used for shops and the stoas used for open stalls...
was the Roman equivalent of the Agora and the word is often used in older texts to refer to Greek agorai (plural of Agora).
External links