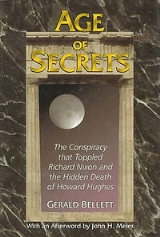 Age of Secrets
Age of Secrets: The Conspiracy that Toppled Richard Nixon and the Hidden Death of Howard Hughes
is a biography on
Howard Hughes
Howard Hughes
Howard Robard Hughes, Jr. was an American business magnate, investor, aviator, engineer, film producer, director, and philanthropist. He was one of the wealthiest people in the world...
personal advisor, and former U.S. Senate Candidate,
John H. Meier
John H. Meier
John H. Meier is an American financier and business consultant now living in Vancouver, Canada. He is noted for working as a business adviser for Howard Hughes and for his behind-the-scenes involvement in events that precipitated President Richard M. Nixon's resignation...
and written by newspaper reporter Gerald Bellett. The book argues that Meier was one of the people who played a role in affecting President
Richard Nixon
Richard Nixon
Richard Milhous Nixon was the 37th President of the United States, serving from 1969 to 1974. The only president to resign the office, Nixon had previously served as a US representative and senator from California and as the 36th Vice President of the United States from 1953 to 1961 under...
's resignation in the wake of the Watergate scandal. It also details how Meier was apparently pursued for 20 years by the CIA, the Hughes organization, as well as Nixon sympathizers.
Do you understand, gentlemen, that all the horror is in just this—that there is no horror!

Aleksandr Kuprin|Aleksandr Kuprin, The Pit, translation by Bernard G. Guerney.
I can enjoy her while she's kind;But when she dances in the wind,And shakes the wings and will not stay,I puff the prostitute away: The little or the much she gave is quietly resign'd: Content with poverty, my soul I arm; And virtue, though in rags, will keep me warm.

John Dryden, Imitation of Horace (1685), "On Fortune", Book III, Ode 29, l. 81 - 87.
[in Kenya]...any woman who is single and has multiple male sex partners is considered to be a prostitute, whether or not money changes hands.

New Internationalist, Issue 252 - February 1994.
[in India] Any sexual intercourse outside socially acceptable unions is likely to be regarded as prostitution.

New Internationalist, Issue 252 - February 1994.
[In Iran] Under mut'a, it is possible to be 'married' for as little as half an hour.

New Internationalist, Issue 252 - February 1994.
Egyptian law states that a man who is caught with a prostitute is not imprisoned; instead, his testimony is used to convict and imprison the prostitute.

New Internationalist, Issue 252 - February 1994.
Prostitutes are the inevitable product of a society that places ultimate importance on money, possessions, and competition.

Jane Fonda, in Thomas Kiernan, Jane: An Intimate Biography of Jane Fonda (1970).
Prostitution is organized rape.

Christine Stark