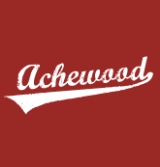 Achewood
Achewood
is a
webcomic
Webcomic
Webcomics, online comics, or Internet comics are comics published on a website. While many are published exclusively on the web, others are also published in magazines, newspapers or often in self-published books....
created by Chris Onstad in 2001. It portrays the lives of a group of
anthropomorphic
Anthropomorphism
Anthropomorphism is any attribution of human characteristics to animals, non-living things, phenomena, material states, objects or abstract concepts, such as organizations, governments, spirits or deities. The term was coined in the mid 1700s...
stuffed toys,
robot
Robot
A robot is a mechanical or virtual intelligent agent that can perform tasks automatically or with guidance, typically by remote control. In practice a robot is usually an electro-mechanical machine that is guided by computer and electronic programming. Robots can be autonomous, semi-autonomous or...
s, and pets. Many of the characters live together in the home of their owner, Chris, at the fictional address of 62 Achewood Court. Another address used in the strip is 11 Via Verde, the home of main character Ray. The events of the strip mostly take place in and around the house, as well as around the town of Achewood, the fictional suburb which gives its name to the comic.
The comic's humor is most often
absurdist
Absurdism
In philosophy, "The Absurd" refers to the conflict between the human tendency to seek value and meaning in life and the human inability to find any...
, typically lacking a set punchline, and sometimes branching into the surreal.