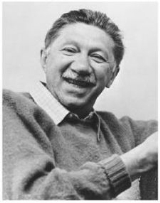 Abraham Maslow
Abraham Harold Maslow
was an
American
United States
The United States of America is a federal constitutional republic comprising fifty states and a federal district...
professor of
psychology
Psychology
Psychology is the study of the mind and behavior. Its immediate goal is to understand individuals and groups by both establishing general principles and researching specific cases. For many, the ultimate goal of psychology is to benefit society...
at
Brandeis University
Brandeis University
Brandeis University is an American private research university with a liberal arts focus. It is located in the southwestern corner of Waltham, Massachusetts, nine miles west of Boston. The University has an enrollment of approximately 3,200 undergraduate and 2,100 graduate students. In 2011, it...
,
Brooklyn College
Brooklyn College
Brooklyn College is a senior college of the City University of New York, located in Brooklyn, New York, United States.Established in 1930 by the New York City Board of Higher Education, the College had its beginnings as the Downtown Brooklyn branches of Hunter College and the City College of New...
, New School for Social Research and
Columbia University
Columbia University
Columbia University in the City of New York is a private, Ivy League university in Manhattan, New York City. Columbia is the oldest institution of higher learning in the state of New York, the fifth oldest in the United States, and one of the country's nine Colonial Colleges founded before the...
who created
Maslow's hierarchy of needs
Maslow's hierarchy of needs
Maslow's hierarchy of needs is a theory in psychology, proposed by Abraham Maslow in his 1943 paper A Theory of Human Motivation. Maslow subsequently extended the idea to include his observations of humans' innate curiosity...
. He stressed the importance of focusing on the positive qualities in people, as opposed to treating them as a 'bag of symptoms.'
Born and raised in Brooklyn, New York, Maslow was the oldest of seven children. His parents were first generation Jewish immigrants from
Russia
Russia
Russia or , officially known as both Russia and the Russian Federation , is a country in northern Eurasia. It is a federal semi-presidential republic, comprising 83 federal subjects...
who were not intellectually oriented but valued education.
A musician must make music, an artist must paint, a poet must write, if he is to be ultimately at peace with himself. What a man can be, he must be.

Motivation and Personality (1954)
I suppose it is tempting, if the only tool you have is a hammer, to treat everything as if it were a nail.

The Psychology of Science: A Reconnaissance (1966), Ch. 2 p. 15 ; although some similar statements to describe fundamental errors in human perception had been expressed before Maslow's, his expression, or slight paraphrases of it, remains among the most popular.
Education is learning to grow, learning what to grow toward, learning what is good and bad, learning what is desirable and undesirable, learning what to choose and what not to choose.

The Farther Reaches of Human Nature (1971)