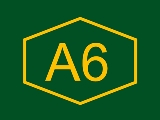 A6 motorway (Cyprus)
The
A6 highway
marked the ending of an ambitious government project to link all the main cities on the island with modern four-lane, high-speed highways. It is 66 km long and is free of any at-grade intersections. It links
Limassol
Limassol
Limassol is the second-largest city in Cyprus, with a population of 228,000 . It is the largest city in geographical size, and the biggest municipality on the island. The city is located on Akrotiri Bay, on the island's southern coast and it is the capital of Limassol District.Limassol is the...
, the largest port (and second largest city) on the island, and
Paphos
Paphos
Paphos , sometimes referred to as Pafos, is a coastal city in the southwest of Cyprus and the capital of Paphos District. In antiquity, two locations were called Paphos: Old Paphos and New Paphos. The currently inhabited city is New Paphos. It lies on the Mediterranean coast, about west of the...
, the top tourist destination on the island. It was completed in 2006 when the Polemidia and Troodos junction upgrade was completed. It features two two-lane 950 m tunnels (one in each direction), the only road tunnels on the island, and a 110 m tall, 550 m long bridge, at
Petra Tou Romiou
Petra Tou Romiou
Petra Tou Romiou , or Aphrodite's Rock, is a sea stack in Pafos, Cyprus. Its status in mythology as the birth place of Aphrodite makes it a popular tourist location.-Birthplace of Aphrodite:...
area. Some minor improvements have been made since completion, and many more are being planned. A new highway,
A7
A7 motorway (Cyprus)
The A7 is a planned Motorway to link the city of Paphos with Polis, a small town in the north west of the island.- Overview :This motorway is one of the oldest demands of locals, due to number of accidents happened on the B7 road , and due to the constant heavy traffic on it...
, is planned to link Paphos and
Polis
Polis
Polis , plural poleis , literally means city in Greek. It could also mean citizenship and body of citizens. In modern historiography "polis" is normally used to indicate the ancient Greek city-states, like Classical Athens and its contemporaries, so polis is often translated as "city-state."The...
, a small municipality 33 km north. The A7 highway will be connected to the A6 hardly 5 km outside Paphos entrance.