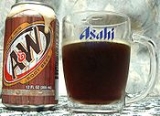 A&W Root Beer
A&W Root Beer
is a brand of
root beer
Root beer
Root beer is a carbonated, sweetened beverage, originally made using the root of a sassafras plant as the primary flavor. Root beer, popularized in North America, comes in two forms: alcoholic and soft drink. The historical root beer was analogous to small beer in that the process provided a drink...
, primarily available in the
United States
United States
The United States of America is a federal constitutional republic comprising fifty states and a federal district...
and
Canada
Canada
Canada is a North American country consisting of ten provinces and three territories. Located in the northern part of the continent, it extends from the Atlantic Ocean in the east to the Pacific Ocean in the west, and northward into the Arctic Ocean...
, that was started in 1919 by Roy Allen. In 1922, Allen partnered with Frank Wright. They combined their initials to create the brand "A&W" and inspired a
restaurant chain
A&W Restaurants
A&W Restaurants, Inc., is a chain of fast-food restaurants, distinguished by its draft root beer and root beer floats. A&W was arguably the first successful food franchise company, starting franchises in 1921 in California. Today it has franchise locations throughout the world, serving a typical...
which was founded 1922. The first A&W root beer drinks were sold for five cents. A&W Root Beer is often referred to as the root beer standard amongst root beer reviewers.
Outside Canada, the rights to the A&W brand are owned by Dr. Pepper Snapple Group, which in turn licenses the brand to the similarly named U.S.-based restaurant chain; A&W products are distributed via various U.S. bottlers. A&W Food Services of Canada, which is independent of both DPSG and the U.S. chain, is responsible for both the restaurants and root beer products in that country, with retail products being bottled by
Coca-Cola
The Coca-Cola Company
The Coca-Cola Company is an American multinational beverage corporation and manufacturer, retailer and marketer of non-alcoholic beverage concentrates and syrups. The company is best known for its flagship product Coca-Cola, invented in 1886 by pharmacist John Stith Pemberton in Columbus, Georgia...
.
History
On June 20, 1919, Roy Allen opened a roadside root beer stand in
Lodi, California
Lodi, California
Lodi is a city located in , in the northern portion of California's Central Valley. The population was 62,134 at the 2010 census. The California Department of Finance's population estimate as of January 1, 2011 is 62,473....
, using a formula he had purchased from a pharmacist. He soon opened additional stands in
Stockton, California
Stockton, California
Stockton, California, the seat of San Joaquin County, is the fourth-largest city in the Central Valley of the U.S. state of California. With a population of 291,707 at the 2010 census, Stockton ranks as this state's 13th largest city...
and five stands in nearby
Sacramento
Sacramento
Sacramento is the capital of the state of California, in the United States of America.Sacramento may also refer to:- United States :*Sacramento County, California*Sacramento, Kentucky*Sacramento – San Joaquin River Delta...
, home of the country's first
drive-in
Drive-in
A drive-in is a facility such as a bank, restaurant, or movie theater where one can literally drive in with an automobile for service. It is usually distinguished from a drive-through. At a drive-in restaurant, for example, customers park their vehicles and are usually served by staff who walk out...
featuring "tray-boys" for curbside service. In 1920, Allen became partners with Frank Wright and the two combined their initials and called their product A&W Root Beer. It has been mistakenly spread in some circles that A&W stands for Alice and Willard Marriot, which has arisen because Mr. Marriot's first business was an A&W franchise
In 1924, Allen bought Wright's share of the business and pursued a restaurant franchise sales program. With the A&W Root Beer name trademarked with the U.S. Patent and Trademark Office, Allen began selling franchises to others. Buying a restaurant franchise enabled individuals to open A&W drive-ins and vending booths, establishing one of the first franchised restaurant chains in the United States. Franchisees would use the A&W name and logo and buy concentrated root beer syrup from Allen. By 1933, there were more than 170 A&W franchised outlets. There was no common menu, architecture, or procedures shared by the franchisees and some chose to start selling food with the root beer.
Franchises struggled with labor shortages and sugar rationing during
World War II
World War II
World War II, or the Second World War , was a global conflict lasting from 1939 to 1945, involving most of the world's nations—including all of the great powers—eventually forming two opposing military alliances: the Allies and the Axis...
, but following the war, the number of A&W outlets tripled as GI loans paved the way for private enterprise. Driven by the popularity of the automobile and the new mobile society, more than 450 A&W Root Beer stands were operating by 1950. In the same year, Allen retired and sold the business to
Nebraska
Nebraska
Nebraska is a state on the Great Plains of the Midwestern United States. The state's capital is Lincoln and its largest city is Omaha, on the Missouri River....
n Gene Hurtz, who formed the A&W Root Beer Company. The first A&W Root Beer outlet in Canada opened in 1956.
By 1960 the number of A&W restaurants had swelled to more than 2,000. In 1963, the A&W Root Beer Company was sold to the J. Hungerford Smith Company, the firm which had manufactured Allen's concentrate since 1921. In the same year, the first overseas A&W restaurant opened its doors in
Guam
Guam
Guam is an organized, unincorporated territory of the United States located in the western Pacific Ocean. It is one of five U.S. territories with an established civilian government. Guam is listed as one of 16 Non-Self-Governing Territories by the Special Committee on Decolonization of the United...
.
In 1963, the company was sold to the United Fruit Company, which was renamed the United Brands Company. In 1971, United Brands formed a wholly owned subsidiary, A&W Distributing Co., for the purpose of making A&W Root Beer available in bottles on the grocery shelf. After a test run in
Arizona
Arizona
Arizona ; is a state located in the southwestern region of the United States. It is also part of the western United States and the mountain west. The capital and largest city is Phoenix...
and
California
California
California is a state located on the West Coast of the United States. It is by far the most populous U.S. state, and the third-largest by land area...
, the products were distributed nationally in the United States, along with sugar-free, low-sodium, and caffeine-free versions. In 1974, A&W introduced "The Great Root Bear," a mascot that served as a goodwill ambassador for the brand.
In the late 1970s,
A&W Restaurants
A&W Restaurants
A&W Restaurants, Inc., is a chain of fast-food restaurants, distinguished by its draft root beer and root beer floats. A&W was arguably the first successful food franchise company, starting franchises in 1921 in California. Today it has franchise locations throughout the world, serving a typical...
was formed to manage restaurant franchising. It was bought in 1982 by
A. Alfred Taubman
A. Alfred Taubman
Adolph Alfred Taubman is an American real estate developer and philanthropist from Michigan. He pioneered the modern shopping mall concept and was described by CBS News as a "legend in retailing" who became wealthy developing upscale shopping malls. He built shopping mall developer Taubman Centers...
.
In 1986, A&W Cream Soda and A&W Diet Cream Soda were introduced and distributed nationally, followed in 1987 by the reformulation of sugar-free A&W as Diet A&W.
In October 1993, A&W Beverages became part of Cadbury Beverages. That company would spin off its US beverages business as
Dr Pepper Snapple Group
Dr Pepper Snapple Group
Dr Pepper Snapple Group Inc. is an American soft drink company, based in Plano, Texas.It was spun off from Britain's Cadbury Schweppes, on May 5, 2008, with trading in its shares starting on May 7, 2008...
in 2008.
In March 2005, A&W began to appear in the Vintage Bottle, a 20-ounce bottle with graphics reminiscent of an old fashioned root beer barrel. The brand's current tagline is, "Classic American Refreshment Since 1919."
Although A&W Root beer has never been a product of the UK market, it is available to residents of the UK either from eBay, Amazon or other specialist importers such as
American Goodies
.
Brands
A&W Sugar-free Root Beer was introduced in 1974, and reformulated as Diet A&W in 1987.
A&W Cream Soda

A&W Cream Soda

A&W Cream Soda is a cream soda carbonated soft drink introduced by A&W Root Beer in 1986.- Ingredients :A&W Cream Soda contains carbonated water, high fructose corn syrup and/or sugar, sodium benzoate, natural and artificial flavors, caramel color, citric acid, vanilla extract, caffeine....


and Diet Cream Soda were introduced in 1986.
A&W Floats and Sunkist Floats were introduced in 2008.
Promotions and contests
A&W and James Belushi

James Belushi

James Adam "Jim" Belushi is an American actor, comedian, and musician. He is the younger brother of comic actor John Belushi.-Early life:Belushi was born in Chicago...


offered a trip to Los Angeles

Los Ángeles

Los Ángeles is the capital of the province of Biobío, in the commune of the same name, in Region VIII , in the center-south of Chile. It is located between the Laja and Biobío rivers. The population is 123,445 inhabitants...


with a VIP

Very Important Person

A Very Important Person, or VIP is a person who is accorded special privileges due to his or her status or importance.Examples include celebrities, heads of state/heads of government, major employers, high rollers, politicians, high-level corporate officers, wealthy individuals, or any other...


pass to "A&W Ultimate All-American Cookout and Concert" at the House of Blues

House of Blues

House of Blues is a chain of 13 live music concert halls and restaurants in major markets throughout the United States. House of Blues first location was in Cambridge's Harvard Square. It was opened in 1992 by Isaac Tigrett, co-founder of Hard Rock Cafe, and Dan Aykroyd, star of The Blues Brothers...


over eBay

EBay

eBay Inc. is an American internet consumer-to-consumer corporation that manages eBay.com, an online auction and shopping website in which people and businesses buy and sell a broad variety of goods and services worldwide...


.
The Great Root Bear
The
Great Root Bear
is the popular mascot for A&W Root Beer. It was first used in 1974 by Canada's
A&W
, and was later adopted by the American chain. In the late 1990s, the Great Root Bear's role as mascot was reduced for the restaurant chain, ultimately being replaced by "The Burger Family", although it still appears in various capacities for the restaurants and on A&W Root Beer cases in Canada. In a long-running television advertising campaign for the Canadian A&W chain, his theme was a tuba-driven jingle entitled "Ba-Dum, Ba-Dum" which was released as a single by
Attic Records
Attic Records (Canada)
Attic Records was a Canadian independent record label, founded in 1974 by Alexander Mair and Tom Williams. The label was known for developing Canadian talent, including Anvil, Lee Aaron, Maestro Fresh Wes, The Nylons, Teenage Head, and Triumph...
in Canada, credited to "Major Ursus", a play on the constellation name
Ursa Major
Ursa Major
Ursa Major , also known as the Great Bear, is a constellation visible throughout the year in most of the northern hemisphere. It can best be seen in April...
, which means "great bear".
A&W Restaurants
Shortly after Allen had bought out Wright's portion of the business, he began franchising the product. His
profits
Profit (accounting)
In accounting, profit can be considered to be the difference between the purchase price and the costs of bringing to market whatever it is that is accounted as an enterprise in terms of the component costs of delivered goods and/or services and any operating or other expenses.-Definition:There are...
came from a small franchise fee and sales of concentrate. There was no standard food
menu
Menu
In a restaurant, a menu is a presentation of food and beverage offerings. A menu may be a la carte – which guests use to choose from a list of options – or table d'hôte, in which case a pre-established sequence of courses is served....
for franchises until 1978. By 1960, they had 2000 stores.
In 1989, A&W made an agreement with
Minnesota
Minnesota
Minnesota is a U.S. state located in the Midwestern United States. The twelfth largest state of the U.S., it is the twenty-first most populous, with 5.3 million residents. Minnesota was carved out of the eastern half of the Minnesota Territory and admitted to the Union as the thirty-second state...
-based chain Carousel Snack Bars to convert that chain's 200 locations (mostly kiosks in
shopping mall
Shopping mall
A shopping mall, shopping centre, shopping arcade, shopping precinct or simply mall is one or more buildings forming a complex of shops representing merchandisers, with interconnecting walkways enabling visitors to easily walk from unit to unit, along with a parking area — a modern, indoor version...
s) to "A&W Hot Dogs & More". Some A&W Hot Dogs & More locations are still in operation today.
In the United States and
Southeast Asia
Southeast Asia
Southeast Asia, South-East Asia, South East Asia or Southeastern Asia is a subregion of Asia, consisting of the countries that are geographically south of China, east of India, west of New Guinea and north of Australia. The region lies on the intersection of geological plates, with heavy seismic...
, A&W is currently a Yum! Brands, Inc. company. Most A&W locations that have opened in the U.S. in recent years have been co-branded with one of Yum!'s other chains—
Long John Silver's
Long John Silver's
Long John Silver's, Inc. is a United States-based fast-food restaurant that specializes in seafood. The name and concept were inspired by Robert Louis Stevenson's book Treasure Island. Formerly a division of Yum! Brands, Inc., the company was divested to a group of franchisees in 2011.-History:The...
,
Taco Bell
Taco Bell
Taco Bell is an American chain of fast-food restaurants based in Irvine, California. A subsidiary of Yum! Brands, Inc., which serves American-adapted Mexican food. Taco Bell serves tacos, burritos, quesadillas, nachos, other specialty items, and a variety of "Value Menu" items...
,
Pizza Hut
Pizza Hut
Pizza Hut is an American restaurant chain and international franchise that offers different styles of pizza along with side dishes including pasta, buffalo wings, breadsticks, and garlic bread....
or Kentucky Fried Chicken.
External links