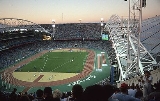 2000 Summer Olympics
The Sydney 2000 Summer Olympic Games or the Millennium Games/Games of the New Millennium, officially known as the Games of the XXVII Olympiad, were an international
multi-sport event
Multi-sport event
A multi-sport event is an organized sporting event, often held over multiple days, featuring competition in many different sports between organized teams of athletes from nation-states. The first major, modern, multi-sport event of international significance was the modern Olympic Games.Many...
which was celebrated between 15 September and 1 October 2000 in
Sydney
Sydney
Sydney is the most populous city in Australia and the state capital of New South Wales. Sydney is located on Australia's south-east coast of the Tasman Sea. As of June 2010, the greater metropolitan area had an approximate population of 4.6 million people...
,
New South Wales
New South Wales
New South Wales is a state of :Australia, located in the east of the country. It is bordered by Queensland, Victoria and South Australia to the north, south and west respectively. To the east, the state is bordered by the Tasman Sea, which forms part of the Pacific Ocean. New South Wales...
,
Australia
Australia
Australia , officially the Commonwealth of Australia, is a country in the Southern Hemisphere comprising the mainland of the Australian continent, the island of Tasmania, and numerous smaller islands in the Indian and Pacific Oceans. It is the world's sixth-largest country by total area...
. It was the second time that the Summer Olympics were held in the
Southern Hemisphere
Southern Hemisphere
The Southern Hemisphere is the part of Earth that lies south of the equator. The word hemisphere literally means 'half ball' or "half sphere"...
, the first one being in
Melbourne in 1956
1956 Summer Olympics
The 1956 Melbourne Summer Olympics, officially known as the Games of the XVI Olympiad, were an international multi-sport event which was held in Melbourne, Australia, in 1956, with the exception of the equestrian events, which could not be held in Australia due to quarantine regulations...
, and as a result of this location and the dates, took place in early spring.
Sydney won the right to host the Games on 24 September 1993, after being selected over Beijing, Berlin, Istanbul and Manchester in four rounds of voting, at the 101st IOC Session in
Monte Carlo
Monte Carlo
Monte Carlo is an administrative area of the Principality of Monaco....
, Monaco.
The main venue (Stadium Australia) host concerts and sporting events every year including the annual NRL Grand Final (Rugby League), being the home ground of two NRL teams (Bulldogs and Rabbitohs) it is used constantly in winter.