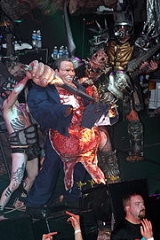 GWAR
Topics
GWAR
Quotations

Quotations
GWAR
, American
thrash metal
,
punk
and
shock rock
band
Scumdogs of the Universe (1990)
"Back on the road, its no lie... Stupid fucking humans pay money to die! Crushed in the pit, nailed to the stage, I only suck the souls that are underage!"
"With a battle cry go forth which is "Give the people what they want." And what the people want could only be the senseless slaughter of the gutter-slime that litters this nation for cash and prizes. Yes, this is the show where people bet their lives to win something big. / Cause when your life is shit, then you haven't got much to lose on Slaughterama!"
"So, how do ya hide money from a hippy? Put it under the soap!"
America Must Be Destroyed (1992)
"Freedom to all the people / Brave, true and strong / Freedom to all the people / Unless I think you're wrong!"
This Toilet Earth (1994)
"The cherub screams "NO" as I move to defile / Our bodies entwine in a puddle of bile / Many years later we'll look back and smile / As we thrash about on the urine-drenched tile / The delivery room is as still as a tomb / I fuck the child while its still in your womb / The child is now dead and you start to blubber / Fuck your warm corpse with your child as a rubber!"
RagNaRok (1995)
"To die / Perchance to sin / That's the rub / For in that sleep of sin / What, what kingdom may come? / What of the limitless sex and violence in the wake of RagNaRok!"
Carnival of Chaos (1997)
"Raining death on people / Firing into crowds / Over there I got a big bright medal / But here it's not allowed!"
War Party (2004)
"Hiroshima, a shadow burned in time / Nagasaki, naked baby melts alive / Burnt flesh and rubble from sea to dead shore / Such a hideous theatre of war / But that was the end - why? / There are so many more that must die / Is that not part of the plan? / I must use the nukes I can't kill you all with my hands."
"The Swastika and the Bloody Old Cross / Two great hates that hate great together"
"The decay of grandeur / From riches to rot / The decay of grandeur say / To have and then have not"
"All men die so don't ask me why / What the fuck else did you think we were for / You were made to decay / It's better that way / This is the price of your war"
"It's gone beyond hatred this time"
"The Reaganator and the U.S.A.! / We'll kill anything that gets in our way! / We're the good guys, so you have to die, that's why!"