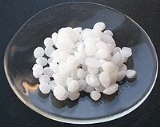 Sodium hydroxide
Posts 1 - 3 of 3

warlickja
When is a respirator needed when useing sodium hydroxide

replied to: warlickja

biire2u
Replied to: When is a respirator needed when useing sodium hydroxide
When pouring the dry pellets into anything. Especially in large bag or drum quantities. Especially indoors also. You don't want to breathe the fines and the dust from those large bags without plenty of ventilation. Even masks aren't enough without ventilation because the NaOH dust gets in your eyes also and is harmful.
replied to: warlickja

doneydidit
Replied to: When is a respirator needed when useing sodium hydroxide
A respirator, rubber gloves, apron, safety glasses, even rubber boots is needed any time you are introducing sodium hydroxide to any other compound. If it has been already mixed into a low titration bath "sodium & water" and there is plenty of fresh air moving a respirator may not be required and to be sure the more than likely you can get a hold of an AIR QUALITY inspector and have them run air quality tests to help confirm that for your application.