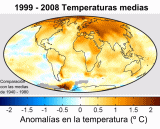 Global warming
Posts 1 - 4 of 4

hartywizycokolow
Pls i wish to be enlightened abourt global warming
replied to: hartywizycokolow

Balavigneshwaran
Replied to: Pls i wish to be enlightened abourt global warming
GLOBAL WARMING:
ITS A PROCEES OF HEATING UP THE EARTHS SURFACE, WITH THE HELP OF GREEN HOUSE GASES WHICH IS EMMITED FROM THE SUN TO OUR EARTH, USALLY 40% OF RADITION BEEN FILTERED IN OUR OZONE AND BALANCE 60% REACHES OUR EARTH SURFACE, WHICH IS THEN REFECTED BACK TO THE ATMOSPHERE, BUT DUE TO POLUTION AND OZONE LAYER WEAKNESS 50% OF GAS BEEN REFLECTED BACK TO OUR EARTH WHICH IMPACTS OUR EARTH AND ITS GEOGRAPHICAL STATUS.
replied to: hartywizycokolow

kittlover23
Replied to: Pls i wish to be enlightened abourt global warming
Global warming is when the earth heats up (the temperature rises). It happens when greenhouse gases (carbon dioxide, water vapor, nitrous oxide, and methane) trap heat and light from the sun in the earth's atmosphere, which increases the temperature. This hurts many people, animals, and plants. Many cannot take the change, so they die.sad i know but the truth.
replied to: hartywizycokolow

lehmann520
Replied to: Pls i wish to be enlightened abourt global warming
Global warming is a media term used to frighten many people into spending money and time doing useless things about a system which they can't affect namely climate change. The fear is that something abrupt and radical that we can't adapt to might happen and that is possible but worrying about it is worse than useless.
climate change happens regardless of anything, good or bad, done by humans. we may not enjoy what happens as the climate changes but the planet and the climate don't care. even if humans never put one micro-gram of CO2 into the atmosphere, it would still change.
the real problem we face, the one we can and should do something about is pollution. If the climate changes in such a way that rainfall is drastically reduced over large parts of our land masses (and there is a lot of evidence that this will happen), we will need all the fresh water we can get and right now most of the fresh water available to us is undrinkable, polluted in ways that it kills plant life. We can't even use the stuff to water our fields in many places. Unfortunately the Pollution Issue is passe. Global Warming is 'sexy' and considered relevant by the public driven media.

thanks
Dawn