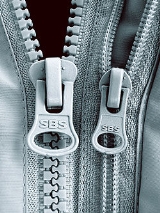 Zipper
noun
(1) A fastener for locking together two toothed edges by means of a sliding tab
verb
(2)
Close with a zipper
"Zip up your jacket--it's cold"
Etymology
1925, . The trade name was registered in 1925 by B.F. Goodrich for "boots made of rubber and fabric," claiming use of the name since June 1923. No longer a registered trademark.
Noun
A zip fastener.
Synonyms
slide fastener
zip , zip fastener
Verb
To close a zipper.

He zippered his sweater against the cold.

To put a zipper on an article.

This Fall jackets are zippered.
----