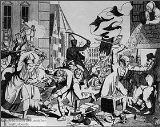 Violence
noun
(1)
An act of aggression (as one against a person who resists)
"He may accomplish by craft in the long run what he cannot do by force and violence in the short one"
(2)
The property of being wild or turbulent
"The storm's violence"
(3) A turbulent state resulting in injuries and destruction etc.
Noun
Extreme force.

The violence of the storm, fortunately, was more awesome than destructive.

Action intended to cause destruction, pain, or suffering.

We try to avoid violence in resolving conflicts.

Widespread fighting.

Violence between the government and the rebels continues.
Etymology
< adjective , see violent.
Synonyms