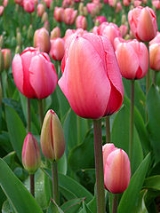 Tulip
noun
(1) Any of numerous perennial bulbous herbs having linear or broadly lanceolate leaves and usually a single showy flower
Etymology
From < < , also the root of ; cognate with
Mazandarani
.
Noun
A type of flowering plant, genus Tulipa.
The flower of this plant.
Quotations
1876 — "The Tulip Mania", Harper's New Monthly Magazine No. CCCXL, April 1876, Vol. LII.

"The sturdy burghers of Holland took the tulip mania so badly that single bulbs that could not flower till another year would sell for more than $2000 apiece."