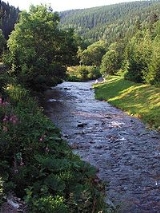 Tributary
adjective
(1)
Tending to bring about; being partly responsible for
"Working conditions are not conducive to productivity"
"The seaport was a contributing factor in the growth of the city"
"A contributory factor"
(2)
Paying tribute
"A tributary colony"
(3) Of a stream; flowing into a larger stream
noun
(4) A branch that flows into the main stream
Etymology
From , from , from .
Noun
A river that flows into a larger river or other body of water.
A nation, state, or other entity that pays tribute.
Quotations
nation paying tribute