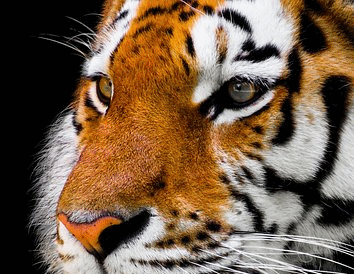 Tiger
noun
(1) Large feline of forests in most of Asia having a tawny coat with black stripes; endangered
(2)
A fierce or audacious person
"He's a tiger on the tennis court"
"It aroused the tiger in me"
Etymology
From , from , from , possibly of Iranian origin.
Noun
Panthera tigris, a large carnivorous animal of the cat family, indigenous to Asia.
A leopard.

1907, Sir Percy Fitzpatrick, Jock of the Bushveld, Longmans 1976 ed., ISBN 0582161231, page 251:

Jim remarked irrelevantly that tigers were 'schelms' and it was his conviction that there were a great many in the kloofs round about.

A person who is very athletic during intercourse.