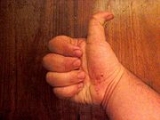 Thumb
noun
(1) A convex molding having a cross section in the form of a quarter of a circle or of an ellipse
(2) The part of a glove that provides a covering for the thumb
(3) The thick short innermost digit of the forelimb
verb
(4)
Feel or handle with the fingers
"Finger the binding of the book"
(5) Travel by getting free rides from motorists
Etymology
From , from , from , from (compare Latin ). Cognate with Dutch , German .
Noun
The short thick digit of the hand that for humans has the most mobility and can be made to oppose (moved to touch) all of the other fingers.
The part of a slider that may be moved linearly along the slider.
(Abbreviation of) thumbnail (picture).
Verb
To touch with the thumb.
To turn the pages of (a book) in order to read it cursorily.

I thumbed through the book and decided not to bother reading it all.