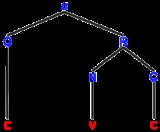 Syllable
noun
(1)
A unit of spoken language larger than a phoneme
"The word `pocket' has two syllables"
Etymology
Middle English and Middle French
sillabe
< < < < + .
Noun
A unit of human speech that is interpreted by the listener as a single sound, although syllables usually consist of one or more vowel sounds, either alone or combined with the sound of one or more consonants; a word consists of one or more syllables.
The written representation of a given pronounced syllable.
Related terms
syllabify
monosyllable
polysyllable