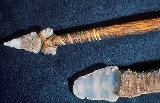 Spear
noun
(1) A long pointed rod used as a weapon
(2) An implement with a shaft and barbed point used for catching fish
verb
(3)
Pierce with a spear
"Spear fish"
(4)
Thrust up like a spear
"The branch speared up into the air"
Noun
A long stick with a sharp tip used as a weapon for throwing or thrusting, or anything used to make a thrusting motion.
an illegal maneuver using the end of a hockey stick to strike into another hockey player
See also
joust
spit, used to grill food on fire
Verb
To penetrate or strike with, or as if with, any long narrow object. To make a thrusting motion that catches an object on the tip of a long device.