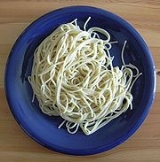 Spaghetti
noun
(1) Pasta in the form of long strings
(2) Spaghetti served with a tomato sauce
Noun
A type of pasta made in the shape of long thin strings.
(in singular: strand of spaghetti) an individual piece of spaghetti
A dish that has spaghetti as a main part of it, such as spaghetti bolognese.
Informally, any type of pasta.
Electrical insulating tubing.
Anything tangled or confusing.
A short form of spaghetti code.