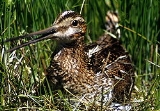 Snipe
noun
(1) A gunshot from a concealed location
(2) Old or New World straight-billed game bird of the sandpiper family; of marshy areas; similar to the woodcocks
verb
(3) Aim and shoot with great precision
(4) Hunt or shoot snipe
Etymology
The verb, i.e. its original meaning "to sharpshoot", was first used by British troops in India in the 18th century in allusion to their hunting snipe as game.
Noun
Any of various limicoline game birds of the family Scolopacidae, having a long, slender, nearly straight beak.
A fool; a blockhead.
A shot from a concealed place.
A member of the Engineering Department on a ship.
A bottle of wine containing 0.1875 liters of fluid, 1/4 the volume of a standard bottle; a quarter bottle or piccolo.
An animated promotional logo during a television show.
Verb
To shoot at individuals from a concealed place.
To make malicious, underhand remarks or attacks.
To watch a timed online auction and place a winning bid at the last possible moment.