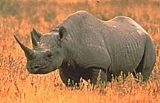 Rhinoceros
noun
(1) Massive powerful herbivorous odd-toed ungulate of southeast Asia and Africa having very thick skin and one or two horns on the snout
Etymology
Via , from , composed of + .
Noun
Usage notes
In natural history, the plural is often used, in the same way that the singular of the names of many wild animals is often used in natural history as the plural (compare , , etc).
The plurals and are often found, formed by association with other Latin and Greek plurals, though they do not represent true Latin or Greek forms.
The Latin-derived plural form is usually considered as a plural of the archaic form .
Hyponyms
lesser one-horned rhinoceros