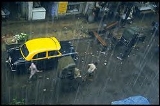 Rain
noun
(1)
Anything happening rapidly or in quick successive
"A rain of bullets"
"A pelting of insults"
(2) Water falling in drops from vapor condensed in the atmosphere
(3) Drops of fresh water that fall as precipitation from clouds
verb
(4)
Precipitate as rain
"If it rains much more, we can expect some flooding"
Noun
Condensed water falling from a cloud.

We've been having a lot of rain lately.
The rains came late that year.

Any matter moving or falling, usually through air, and especially if liquid or otherwise figuratively identifiable with raindrops.
Verb
To have rain fall from the sky.

It will rain today.

To fall in large quantities.

Bombs rained from the sky.

To issue (something) in large quantities.

The boxer rained punches on his opponent's head.
See also