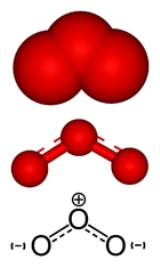 Oxygen
noun
(1) A nonmetallic bivalent element that is normally a colorless odorless tasteless nonflammable diatomic gas; constitutes 21 percent of the atmosphere by volume; the most abundant element in the earth's crust
Etymology
Borrowed from
oxygène
(originally in the form
principe oxygène
, a variant of
principe oxigine
'acidifying principle', suggested by Lavoisier), from (oxus)
sharp
+ (
genos
)
birth
, referring to oxygen's role in the formation of acids.
Noun
A chemical element (symbol O) with an atomic number of 8 and relative atomic mass of 15.9994.
Molecular oxygen (O2), a colorless, odorless gas at room temperature.
A mixture of oxygen and other gases, administered to a patient to help him or her to breathe.
An atom of this element.
Related terms