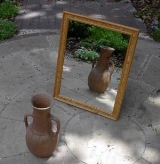 Mirror
noun
(1) Polished surface that forms images by reflecting light
(2)
A faithful depiction or reflection
"The best mirror is an old friend"
verb
(3)
Reflect or resemble
"The plane crash in Milan mirrored the attack in the World Trade Center"
(4)
Reflect as if in a mirror
"The smallest pond at night mirrors the firmament above"
Etymology
From Middle English
mirour
, from Old French
mireor
, from
mirer
, to look at, from , from .
Noun
A smooth surface, usually made of glass with reflective material painted on the underside, that reflects light so as to give an image of what is in front of it.
an object, person, or event that reflects or gives a picture of another.
An exact copy of a data set, especially a website.
Verb
Of an event, activity, behaviour, etc, to be identical to, to be a copy of.
To create a mirror of (a web site, etc.).
See also
cheval glass
looking glass