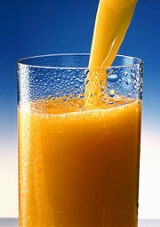 Juice
noun
(1)
Any of several liquids of the body
"Digestive juices"
(2) The liquid part that can be extracted from plant or animal tissue
(3)
Electric current
"When the wiring was finished they turned on the juice"
(4)
Energetic vitality
"Her creative juices were flowing"
Noun
A liquid from a plant, especially fruit.

Squeeze the orange and some juice will come out.

A beverage made of juice.

I'd like two orange juices please.

Any liquid resembling juice.
A soft drink.
steroids
The vaginal lubrication that a woman naturally produces when sexually aroused.
term for musical agreement between instrumentalists.
Verb
To remove the juice from something.
To energize or stimulate something.