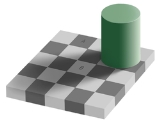 Illusion
noun
(1) An illusory feat; considered magical by naive observers
(2) The act of deluding; deception by creating illusory ideas
(3)
Something many people believe that is false
"They have the illusion that I am very wealthy"
(4) An erroneous mental representation
Noun
Anything that seems to be something that it is not.

We saw what looked like a tiger among the trees, but it was an illusion caused by the shadows of the branches.
Using artificial additives, scientists can create the illusion of fruit flavours in food.

A misapprehension; a belief in something that is in fact not true.

Jane has this illusion that John is in love with her.

A magician's trick.
The fact of being an illusion (in any of the above senses).
Etymology
From , from .