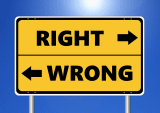 Ethics
noun
(1) The philosophical study of moral values and rules
(2) Motivation based on ideas of right and wrong
Etymology
From < < < < .
Noun
The study of principles relating to right and wrong conduct.
The standards that govern the conduct of a person, especially a member of a profession.
Usage notes
Although the terms ethics and morality may sometimes be used interchangeably, philosophical ethicists often distinguish them, using ethics to refer to theories and conceptual studies relating to good and evil and right and wrong, and using morality and its related terms to refer to actual, real-world beliefs and practices concerning proper conduct. In this vein, the American philosopher Brand Blanshard wrote concerning his friend, the eminent British ethicist G. E. Moore: "We often discussed ethics, but seldom morals. . . . He was a master in ethical theory, but did not conceive himself as specially qualified to pass opinions on politics or social issues."