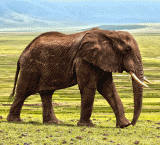 Elephant
noun
(1) Five-toed pachyderm
(2) The symbol of the Republican Party; introduced in cartoons by Thomas Nast in 1874
Etymology
, from , from .
Noun
A mammal of the order Proboscidea, having a trunk, and two large ivory tusks jutting from the upper jaw.
Anything huge and ponderous.
A printing-paper size measuring 30 inches x 22 inches.
used when counting to add length.

Let's play hide and seek. I'll count. One elephant, two elephant, three elephant...
Related terms