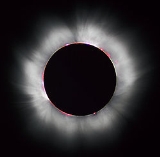 Eclipse
noun
(1) One celestial body obscures another
verb
(2)
Cause an eclipse of (a celestial body) by intervention
"The Sun eclipses the moon today"
"Planets and stars often are occulted by other celestial bodies"
(3)
Exceed in importance; outweigh
"This problem overshadows our lives right now"
(4)
Cause an eclipse of; of celestial bodies
"The moon eclipsed the sun"
Etymology
From , from , from , from and .
Noun
An astronomical alignment in which a planetary object (for example, the Moon) comes between the sun and another planetary object (for example, the Earth), resulting in a shadow being cast by the middle object onto the other object.
A seasonal state of plumage in some birds, notably ducks, adopted temporarily after the breeding season and characterised by a dull and scruffy appearance.
Related terms
Verb
Of astronomical bodies, to cause an eclipse.

The Moon eclipsed the Sun.

To overshadow; to be better or more noticeable than.

The student's skills soon eclipsed those of his teacher.