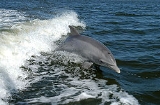 Dolphin
noun
(1) Any of various small toothed whales with a beaklike snout; larger than porpoises
(2) Large slender food and game fish widely distributed in warm seas (especially around Hawaii)
English
Etymology
From , , < < < "womb".
Noun
A carnivorous aquatic mammal inhabiting mostly in the shallower seas of the continental shelves, famed for its intelligence and occasional willingness to approach humans.
A fish, the mahi-mahi or dorado, scientific name Coryphaena hippurus, with a dorsal fin that runs the length of the body, also known for iridescent coloration.
The dauphin, eldest son of the kings of France.
A maritime semi submerged man-made structure usually close to shore.