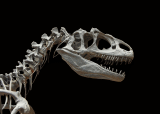 Dinosaur
noun
(1) Any of numerous extinct terrestrial reptiles of the Mesozoic era
English
Etymology
From + .
Noun
Any of various extinct reptiles belonging to the Dinosauria, existing between about 230 million and 65 million years ago.
A person or organisation which is very old or has very old-fashioned views or is not willing to change and adapt.
Anything that is no longer in common use or practice.