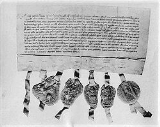 Corporation
noun
(1) Slang for a paunch
(2) A business firm whose articles of incorporation have been approved in some state
Etymology
< < , pp. ; see corporate.
Noun
A group of individuals, created by law or under authority of law, having a continuous existence independent of the existences of its members, and powers and liabilities distinct from those of its members.
In Fascist Italy, a joint association of employers' and workers' representatives.
A protruding belly; a paunch.
Quotations
paunch
1918, Katherine Mansfield, Prelude, Selected Stories, Oxford World's Classics paperback 2002, page 91

'You'd be surprised,' said Stanley, as though this were intensely interesting, 'at the number of chaps at the club who have got a corporation.