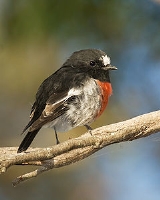 Bird
noun
(1) Warm-blooded egg-laying vertebrates characterized by feathers and forelimbs modified as wings
(2) Badminton equipment consisting of a ball of cork or rubber with a crown of feathers
(3) A cry or noise made to express displeasure or contempt
(4) The flesh of a bird or fowl (wild or domestic) used as food
(5) Informal terms for a (young) woman
verb
(6) Watch and study birds in their natural habitat
English
Noun
A member of the class of animals Aves in the phylum Chordata, characterized by being warm-blooded, having feathers and wings usually capable of flight, and laying eggs.

Ducks and sparrows are birds.

A person.

He's an odd bird.

A girl or woman considered sexually attractive, as used by a man.

Who's that bird?

Girlfriend.

Anto went out with his bird last night.

An airplane.
Synonyms
guy
,
bloke
broad
,
chick
,
dame
,
girl
, lass
See also Wikisaurus:woman
See also Wikisaurus:girl
Verb
To observe or identify wild birds in their natural environment
Noun
A penis.

Don't Touch My Bird.
Noun
The vulgar hand gesture in which the middle finger is extended.

2003, James Patterson and Peter De Jonge, The Beach House, Warner Books, page 305,

Then she raised both hands above her shoulders and flipped him the bird with each one.