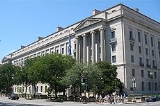 Antitrust
adjective
(1) Of laws and regulations; designed to protect trade and commerce from unfair business practices
Adjective
Opposed to or against the establishment or existence of trusts (monopolies), usually referring to legislation.

The regulators used antitrust laws to block the merger, believing it would eliminate competition.
Usage notes
In the United States, laws that prohibit monopolies are called antitrust laws; in other parts of the world, such laws are generally referred to as antimonopoly laws or competition laws.