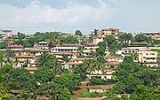 Yaoundé
Transportation
Yaoundé Nsimalen International Airport
Yaoundé Nsimalen International Airport
Yaoundé Nsimalen International Airport is an airport serving Yaoundé, the capital of Cameroon. The airport is located south of Yaoundé, near Nsimalen in Cameroon's Centre Province.In 2004, the airport served 190,487 passengers.-Airlines and destinations:...
is a major civilian hub, while nearby
Yaoundé Airport
Yaoundé Airport
Yaoundé Airport is an airport in Yaoundé, the capital of Cameroon and a city in the Centre Province. It is also known as Yaoundé Ville Airport.-See also:* Cameroon Air Force* List of airports in Cameroon* Yaoundé Nsimalen International Airport...
is used by the military. Railway lines run west to the port city of
Douala
Douala
Douala is the largest city in Cameroon and the capital of Cameroon's Littoral Province. Home to Cameroon's largest port and its major international airport, Douala International Airport, it is the commercial capital of the country...
and north to N'Gaoundéré. Many bus companies operate from the city; particularly in the Nsam and Mvan neighborhoods. Frequent bus runs occur along the road between Yaoundé and Douala, which has witnessed several fatal accidents. Travel time by road between Douala and Yaounde is approximately 3 hours. Traffic in the city can be heavy during weekdays, but is very light during the weekends.Yaounde has made a great progress in infrastructure especially road construction.
Markets
Mokolo is among the biggest of the numerous markets in the city. Others include Mfoundi. There are also some supermarkets (e.g. "Casino") situated in the city centre.
Sports
The national
football (soccer)
Football (soccer)
Association football, more commonly known as football or soccer, is a sport played between two teams of eleven players with a spherical ball...
team plays frequent matches in the
Ahmadou Ahidjo
Stade Omnisports
Ahmadou Ahidjo Stadium is a multi-purpose stadium in Yaoundé, Cameroon. It is used mostly for football matches and it also has athletics facilities. The stadium has seats for 38,720 people. For important matches standing areas can also be created, thus increasing the capacity...
(or Omnisport) stadium. Also, the
Grand Prix Chantal Biya
Grand Prix Chantal Biya
Grand Prix Chantal Biya is a professional road bicycle racing stage race held in Cameroon and sponsored by the Fédération Camerounaise de Cyclisme/Ateba Koungou. The race is named in honor of Chantal Biya, the First Lady of Cameroon as wife of President Paul Biya.-Winners:-External links:*...
, which is a man's
road bicycle racing
Road bicycle racing
Road bicycle racing is a bicycle racing sport held on roads, using racing bicycles. The term "road racing" is usually applied to events where competing riders start simultaneously with the winner being the first to the line at the end of the course .Historically, the most...
event on the UCI Africa Tour starts and finishes in Yaoundé. The
Milwaukee Bucks
Milwaukee Bucks
The Milwaukee Bucks are a professional basketball team based in Milwaukee, Wisconsin, United States. They are part of the Central Division of the Eastern Conference in the National Basketball Association . The team was founded in 1968 as an expansion team, and currently plays at the Bradley Center....
starting small forward,
Luc Richard Mbah a Moute
Luc Richard Mbah a Moute
Luc Richard Mbah a Moute is a Cameroonian professional basketball player for the Milwaukee Bucks of the National Basketball Association . Mbah a Mouté is a prince in his native village of Bia Messe , as he is a son of the elected village chief, Camille Mouté à Bidias...
, was born in Yaoundé in September 1986 as well as
Toronto FC
Toronto FC
Toronto FC is a Canadian professional soccer club based in Toronto, Ontario which competes in Major League Soccer , the top professional soccer league in the United States and Canada....
midfielder
Nane Joseph
Nane Joseph
Joseph Nane Fils Eone is a Cameroonian footballer who currently plays for Colorado Rapids in Major League Soccer.-College and Amateur:...
and former striker
Ali Gerba
Ali Gerba
-Canada/United States:In 2000 Gerba signed with the Montreal Impact where he recorded 6 goals and 2 assists, a club record for a rookie. In 2001 Gerba signed with the Miami Fusion of the MLS but had little success in Miami...
.
Education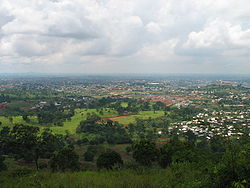 For schools, Cameroon is a bilingual country in the Capital many of the schools will teach in French as a first language and English as a second language, but sometimes they will neglect the English language. There are two American schools in Cameroon, the
American School of Yaounde
American School of Yaounde
The American School of Yaounde in Yaoundé, Cameroon is an independent coeducational school founded in 1964 which offers an educational program from nursery through grade 12 for students of all nationalities....
(ASOY) and Rain Forest International School (RFIS).
Yaoundé is the site of several universities: the
University of Yaoundé I
University of Yaoundé
The University of Yaoundé is a leading university in Cameroon, located in Yaoundé.It was built with the help of France and opened in 1962 as the Federal University of Yaoundé, dropping the "Federal" in 1972 when the country was reorganized....
, the University of Yaoundé II (on a campus outside of town), the Protestant University of Central Africa (UPAC) and the Catholic University for Central Africa (UCAC). Several of the nation's professional schools are also located in Yaounde (Ecole Normal Superieur for teachers, Ecole Militaire InterArmes du Cameroun) as well as various schools for engineers, nurses and diplomats).
External links