 Wilhelmine Schröder-Devrient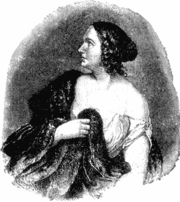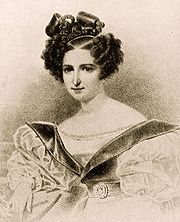 Wilhelmine Schröder-Devrient
, born
Wilhelmine Schröder
(6 December 180426 January 1860), was a German
opera
Opera
Opera is an art form in which singers and musicians perform a dramatic work combining text and musical score, usually in a theatrical setting. Opera incorporates many of the elements of spoken theatre, such as acting, scenery, and costumes and sometimes includes dance...
tic
soprano
Soprano
A soprano is a voice type with a vocal range from approximately middle C to "high A" in choral music, or to "soprano C" or higher in operatic music. In four-part chorale style harmony, the soprano takes the highest part, which usually encompasses the melody...
. As a singer she combined a rare quality of tone with dramatic intensity of expression, which was as remarkable on the concert platform as in opera.
Biography
Schröder was born in Hamburg, the daughter of the actress
Sophie Schröder
Sophie Schröder
Sophie Antonie Luise Schröder , was a German actress.She was born at Paderborn, the daughter of an actor, Gottfried Bürger.She made her first appearance in opera at St Petersburg, in 1793...
and the tenor Friedrich Schröder.
Her first role was at the age of 15 as Aricia in
Schiller
Friedrich Schiller
Johann Christoph Friedrich von Schiller was a German poet, philosopher, historian, and playwright. During the last seventeen years of his life , Schiller struck up a productive, if complicated, friendship with already famous and influential Johann Wolfgang von Goethe...
's translation of
Racine
Jean Racine
Jean Racine , baptismal name Jean-Baptiste Racine , was a French dramatist, one of the "Big Three" of 17th-century France , and one of the most important literary figures in the Western tradition...
's
Phèdre
Phèdre
Phèdre is a dramatic tragedy in five acts written in alexandrine verse by Jean Racine, first performed in 1677.-Composition and premiere:...
, and in 1821, aged 17, she was received with so much enthusiasm as Pamina in
Mozart
Wolfgang Amadeus Mozart
Wolfgang Amadeus Mozart , baptismal name Johannes Chrysostomus Wolfgangus Theophilus Mozart , was a prolific and influential composer of the Classical era. He composed over 600 works, many acknowledged as pinnacles of symphonic, concertante, chamber, piano, operatic, and choral music...
's
The Magic Flute
The Magic Flute
The Magic Flute is an opera in two acts composed in 1791 by Wolfgang Amadeus Mozart to a German libretto by Emanuel Schikaneder. The work is in the form of a Singspiel, a popular form that included both singing and spoken dialogue....
that her future career in opera was assured.
In 1823 she married
Karl Devrient
Karl August Devrient
Karl August Devrient was a German stage actor best known for performances of Schiller and Shakespeare. He was related to other notable German actors, including:* his uncle Ludwig;* his brothers Philipp Eduard and Gustav Emil;...
, becoming known as Wilhelmine Schröder-Devrient, but separated from him in 1828. Meanwhile she had maintained her popularity at Dresden and elsewhere. She made her first Paris appearance in 1830, and sang in London in 1833 and 1837.
Richard Wagner
Richard Wagner
Wilhelm Richard Wagner was a German composer, conductor, theatre director, philosopher, music theorist, poet, essayist and writer primarily known for his operas...
claims to have seen her as Leonore in
Fidelio
Fidelio
Fidelio is a German opera in two acts by Ludwig van Beethoven. It is Beethoven's only opera. The German libretto is by Joseph Sonnleithner from the French of Jean-Nicolas Bouilly which had been used for the 1798 opera Léonore, ou L'amour conjugal by Pierre Gaveaux, and for the 1804 opera Leonora...
when he was 16, but this is almost certainly fanciful. He did hear (and conduct) her in numerous roles after 1834, however, and continued to laud her stage artistry right up until his essay "On Actors and Singers" (1872) which is dedicated to her memory. She created several roles for Wagner – Adriano in
Rienzi
Rienzi
Rienzi, der Letzte der Tribunen is an early opera by Richard Wagner in five acts, with the libretto written by the composer after Bulwer-Lytton's novel of the same name . The title is commonly shortened to Rienzi...
, Senta in
The Flying Dutchman
The Flying Dutchman (opera)
Der fliegende Holländer is an opera, with music and libretto by Richard Wagner.Wagner claimed in his 1870 autobiography Mein Leben that he had been inspired to write "The Flying Dutchman" following a stormy sea crossing he made from Riga to London in July and August 1839, but in his 1843...
and Venus in
Tannhäuser
Tannhäuser (opera)
Tannhäuser is an opera in three acts, music and text by Richard Wagner, based on the two German legends of Tannhäuser and the song contest at Wartburg...
. Had Wagner's political profile not been compromised by his involvement with the Dresden uprising in May 1849, Schröder-Devrient would have created Elsa in
Lohengrin
Lohengrin (opera)
Lohengrin is a romantic opera in three acts composed and written by Richard Wagner, first performed in 1850. The story of the eponymous character is taken from medieval German romance, notably the Parzival of Wolfram von Eschenbach and its sequel, Lohengrin, written by a different author, itself...
which was advertised in 1849 as a forthcoming production in Dresden.
In 1847 she married a Mr Döring, an officer, but divorced him in 1848. She took part in the Revolution of 1848 and was later imprisoned. In 1850 she married Heinrich von Bock, a wealthy land owner, but left him in 1852.
She died in
Coburg
Coburg
Coburg is a town located on the Itz River in Bavaria, Germany. Its 2005 population was 42,015. Long one of the Thuringian states of the Wettin line, it joined with Bavaria by popular vote in 1920...
, Germany, on 26 January 1860.
Apocryphal memoirs
After her death a two volume work entitled
Aus den Memoiren einer Saengerin
, purporting to be her erotic memoirs, was published in two parts in 1868 and 1875. The first volume is a plausible account of her sex life, though various discrepancies with known facts have led many to doubt its complete veracity. The erotic adventures contained in the second volume, however seem to descend into complete sexual fantasy. These include the authoress indulging in lesbian sadomasochism,
group sex
Group sex
Group sex is sexual behavior involving more than two participants. Group sex can occur amongst people of all sexual orientations and genders...
,
sodomy
Sodomy
Sodomy is an anal or other copulation-like act, especially between male persons or between a man and animal, and one who practices sodomy is a "sodomite"...
, bestiality,
scatology
Scatology
In medicine and biology, scatology or coprology is the study of feces.Scatological studies allow one to determine a wide range of biological information about a creature, including its diet , healthiness, and diseases such as tapeworms. The word derives from the Greek σκώρ In medicine and biology,...
,
necrophilia
Necrophilia
Necrophilia, also called thanatophilia or necrolagnia, is the sexual attraction to corpses,It is classified as a paraphilia by the Diagnostic and Statistical Manual of the American Psychiatric Association. The word is artificially derived from the ancient Greek words: νεκρός and φιλία...
,
prostitution
Prostitution
Prostitution is the act or practice of providing sexual services to another person in return for payment. The person who receives payment for sexual services is called a prostitute and the person who receives such services is known by a multitude of terms, including a "john". Prostitution is one of...
and vampirism: all before she had reached the age of 27. Whether true or not, this work is Germany's most famous work of
erotic literature
Erotic literature
Erotic literature comprises fictional and factual stories and accounts of human sexual relationships which have the power to or are intended to arouse the reader sexually. Such erotica takes the form of novels, short stories, poetry, true-life memoirs, and sex manuals...
, many times reprinted, and translated into English as
Pauline the Prima Donna
.
External links